You are here

Good Companies Make Good Investments
Good Companies Make Good Investments
Submitted by DeDora Capital on February 12th, 2016

by Forrest Hill PhD, CFP®
"We have always known that heedless self-interest was bad morals; we know now that it is [also] bad economics." ~ Franklin D. Roosevelt
Often when I talk to people about socially responsible investing (SRI), one misconception they have is that it limits the investing universe to only things like renewable-energy companies and organic-food retailers. In the 1970's and 80's there was some truth to this limited universe argument, as the focus was primarily on screening out what investors consider "bad actors" in the economy. We see this to some extent today with the fossil fuel divestment movement going on at campus around the world.
The focus of SRI has changed, however, due to years of accumulating research demonstrating corporations with good social records often outperformed corporations with bad social records. This has led to a greater emphasis on positive screening, which attempts to identify companies that are frontrunners in meeting Environmental, Social and Governance (ESG) criteria within their particular sector of the economy. As the graph by Morningstar below suggests, this "best-in-class" strategy has provided solid returns in the mutual fund space over the past ten years, compared to conventional investing.
The incl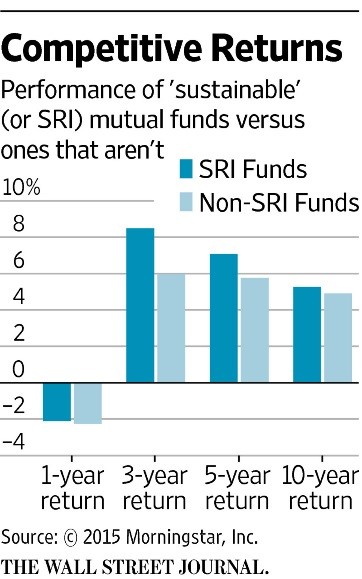 usion of ESG factors in portfolio analysis takes more work, but it can help to reduce investment risk. Companies that pollute, violate human rights, produce dangerous products, and ignore shareholders are not only a risk to the planet, but also have their own associated financial risk. Being a bad actor is harder to hide these days and can be costly. Using ESG factors allows investors to "tilt" their portfolios towards best-in-class companies in all sectors of the economy. This approach establishes a more fully diversified sector allocation than what is possible through the avoidance screening strategies.
Beyond the diversification argument, I believe that best-of-class strategies are typically more effective than avoidance screening at advancing sustainability. In every sector of the economy there are leaders and laggards in ESG performance, even in sectors that many regard as deeply flawed, like mining or oil extraction. If companies in those industries are completely shunned by avoidance screening, they will have no incentive to improve their behavior. But if they know that by improving they could qualify for best-in-sector investors, they may feel that this provides a financial incentive to address their problem areas.
There is a place for both strategies. Some industries don't belong in any SRI portfolio – tobacco seems obvious, as do other products such as weapons that are designed to harm or kill. For some SRI investors it means not investing in fossil fuel, while others feel that because the world isn't going to stop using oil right away, anything we can do to move oil companies in a more sustainable direction is important.
SRI has its controversies, but clearly the focus is on putting our investment dollars to work for our own future and the future of the planet. While there are numerous gray areas in this field and no one-size-fits-all solutions, I believe that SRI can help encourage corporate leaders to "see the light" and decide that their company's survival, and our civilization's, depends on their willingness to change for the better.
Disclosure: This commentary on this website reflects the personal opinions, viewpoints and analyses of the DeDora Capital, Inc. employees providing such comments, and should not be regarded as a description of advisory services provided by DeDora Capital, Inc. or performance returns of any DeDora Capital, Inc. Investments client. The views reflected in the commentary are subject to change at any time without notice. Nothing on this website constitutes investment advice, performance data or any recommendation that any particular security, portfolio of securities, transaction or investment strategy is suitable for any specific person. Any mention of a particular security and related performance data is not a recommendation to buy or sell that security. DeDora Capital, Inc. manages its clients' accounts using a variety of investment techniques and strategies, which are not necessarily discussed in the commentary. Investments in securities involve the risk of loss. Past performance is no guarantee of future results.